Ninebark was meticulously designed and developed with the environment in mind, aiming to provide an enriching experience that promotes a healthy planet and healthy living. Our commitment to sustainability is reflected in a variety of certifications and includes unique features like an urban beehive, an on-site composting program, 72 electric vehicle charging stations, and Ninebark is an all-electric community - each element was chosen to leave the lightest footprint possible.
Salmon-Safe
The Salmon-Safe organization protects rivers & watersheds in the PNW so native salmon can spawn and thrive. Ninebark has met Salmon-Safe's stringent certification standards through our stormwater management practices & efforts to preserve the health of our aquatic ecosystem.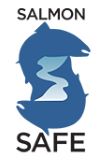 Fitwel
Fitwel is a leading certification system for health-promoting design & operations. In a commitment to the well-being of our residents, Ninebark is pursuing a Fitwel certification and expects to earn a 2-star rating in location, environment, dwellings, water supply, and emergency procedures.

International Living Future Institute - Zero Energy
Our highly efficient Riverside Retreat building produces 100% of the energy it consumes via rooftop solar panels. Ninebark is currently on track to receive ILFI's Zero Energy certification, which is recognized worldwide as one of the highest aspirations in energy performance.

National Wildlife Federation - Garden for Wildlife
Ninebark's gardens and green spaces are NWF Certified Wildlife Habitat and designed as a haven for local birds, butterflies, and other wildlife.